This post brought to you by Gallo Family Vineyards. All opinions are 100% mine.
You must be 21 years or older to drink alcoholic beverages and as always, please remember to drink responsibly.
With summer right around the corner I'm always looking for ways to Mix Up Drinks into a fun summer drink!  I always like to try unique things to really get something new and improved out of my drinks!  With today being National Moscato Day I decided I had to try a fun new drink with a Moscato!  If you don't know anything about National Moscato Day it is an annual holiday dedicated to enjoying this deliciously sweet wine varietal!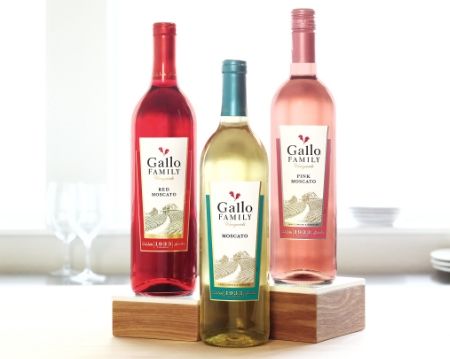 So to celebrate  I got some of the Gallo Family Vineyard's Moscato and decided to make the Perfect Summer Peach Cobbler Moscato!  Peach Cobbler always reminds me of Summer Cookouts, so I thought this would be the perfect way to Mix it Up with my Gallo's Moscato!
You will definitely be able to Moscatofy Yourself with this quiz!
I took this delicious moscato and poured a little into the glasses I was using.  Not too much because I didn't want it to overwhelm the rest of the drink but enough to get the delicious moscato taste!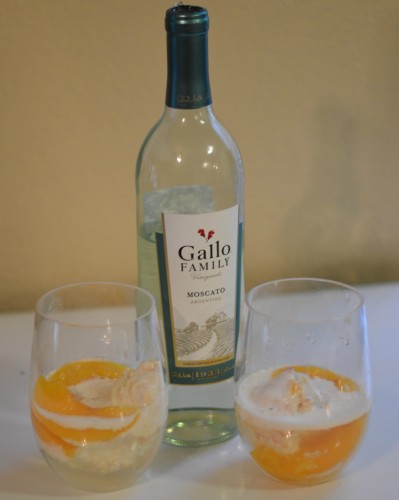 Next I added about 3 canned peaches and a dip of Peach Ice cream!  That is all you have to do to get a wonderful drink!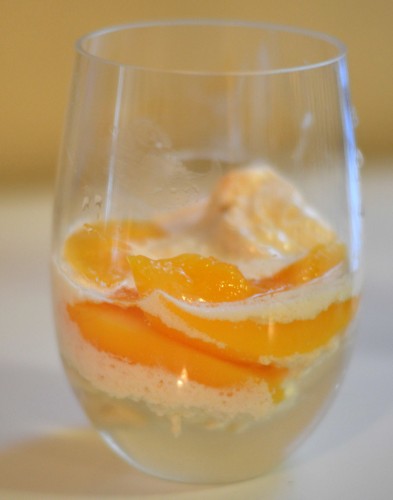 This is a cold and wonderful drink to Mix it Up a little at your summer BBQs or parties!  You will love that the Moscato and Peaches complement each other so well!  You will definitely want to remember to make this on Friday for National Moscato Day!  You can find Gallo Family Vineyards in a store near you for only $4.99/750ml bottle!  To find a store near you make sure to visit the Gallo Family Vineyards Website.
Also, to celebrate National Moscato day come join Gallo Family Vineyards National Moscato Day Twitter Party and virtual live toast today, May 9th at 7 pm ET / 4pm PT. No invitation needed, just tag #MoscatoDay and @GalloFamily in your posts!  
The Host and CoHost are @copykatrecipes and @moderndaymoms. There will be 5 $100 Visa Gift Cards but you must attend the part to win (see Official Rules)!  Winners will be announced throughout the party!  We hope to see you come over and Party with us for National Moscato Day and make sure to grab some of Gallo Family Vineyard's Moscato to join in the fun! 
Make sure to RSVP here: http://www.copykat.com/2014/05/05/pina-colada-moscato-wine-cocktail/
Be sure to Follow @GalloFamily on Twitter and Save your Gallo Family Vineyards corks to help raise up to $50,000 for the Meals on Wheels Association of America