This post brought to you by Atlantic Luggage. All opinions are 100% mine.
Now that I have a family of my own,  I get excited about all of the things we can do together. Each family trip to the zoo, the park, or even the grocery store seems like a rite of passage to me. Now that the small outings have been covered, it's on to the big deal—a family vacation.
Atlantic Luggage knows that vacations are important for families, but that they can also get pretty expensive. They are giving one lucky person a family vacation to either Los Angeles, California or Washington, DC with their "win a family trip for 4" Sweepstakes. To enter, head over here. The winner will receive airfare, hotel, an activity allowance, and 4 pieces of Atlantic Luggage. It sounds like the family vacation of a lifetime!
No matter where you're vacationing this summer, Atlantic Luggage has you covered. Their products are designed with families in mind, so they'll withstand getting sat on by kids and having apple juice spilled all over. One of my favorites is the Atlantic Ultra Lite 2 collection.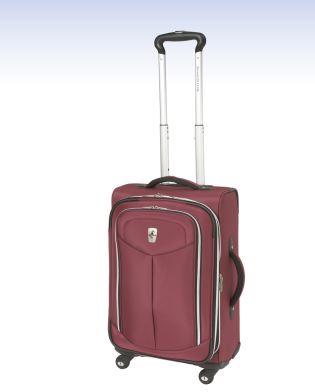 The pieces come in a wide range of sizes, so you're sure to be able to find the perfect suitcase for everyone in your family and for every trip. Each Atlantic Luggage piece is lightweight, reliable and stylish. Plus, there are handles on every side to make it easy to carry no matter where you are. I love that the suitcases aren't clunky and heavy, but rather sleek and fashionable. You'll definitely stand out (in a good way) on the baggage claim carousel.
Atlantic Luggage can handle any trip without costing an arm and a leg. So you'll have more money to spend on your dream vacation without worrying about your luggage falling apart.
Atlantic Luggage is the perfect addition to your family vacation this summer. No matter where you go, you'll be in good hands.