This is a Sponsored post written by me on behalf of ALPO® Brand Dog Food for SocialSpark. All opinions are 100% mine.
ALPO's variety dog food has come out with a wonderful Chop House line of dog food.  I have a small dog and usually when I'm looking at wet dog food I hesitate because she doesn't need a big can of dog food, but now ALPO® offers a 5.5oz can for their Chop House line!  Foxy sometimes is very picky about what she eats and sometimes it is hard to get her to eat.  I have found that she will lick to the plate clean with ALPO's variety dog food though!  She loves wet dog food and this is a way to get her to eat all of her food.  I have also added it on top of her dry food before to give it a little extra flavor!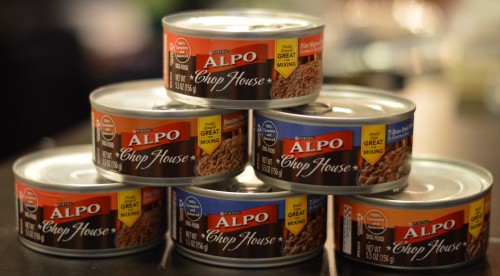 ALPO® Chop House Dog Food brings excitement during mealtime for dogs and their owners by delivering great taste, nutrition and variety. ALPO® wet dog food is 100% complete and balanced and has quality ingredients, like healthy protein sources, wholesome grains and accents of vegetables, contribute to form a complete and balanced diet for each life stage. ALPO® dog food helps support a happy, healthy life, a shiny coat, strong bones and teeth and a mealtime tail that just can't stop wagging. A healthy dog is a happy dog.
ALPO® Chop House Dog Food comes in small cuts or finely ground that are great for mixing with dry food. Also, ALPO® Chop House 5.5 oz. is a compact can great for small dogs and that ALPO® Chop House 5.5 oz offers unique flavors for your dog, such as T-Bone Steak Flavored Cuts, Tender Cuts With Lamb, Filet Mignon Flavor, and Rotisserie Chicken Flavored Cuts .
I decided to try the T-Bone Steak and the Filet Mignon style of ALPO® Chop House Dog Food with Foxy!  The first one she tried was the T-Bone Steak!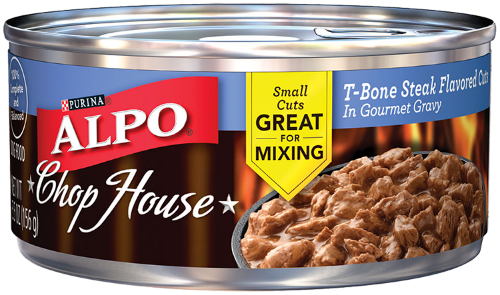 It looked very good when I took it out of the can and I knew immediately that foxy would probably like it.  It actually looked like meat and she is a fan of  meat especially from my plate!
Foxy loved it!  She licked her plate clean!  She seemed to really like this flavor and definitely wanted more after she was done!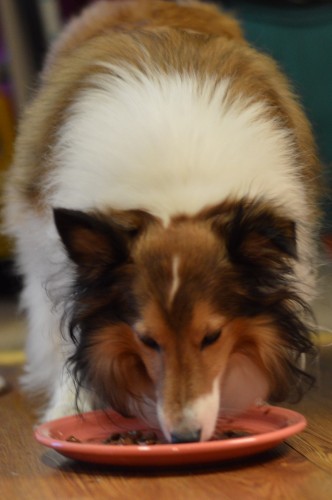 She liked it so much that while I was trying to take a picture of her she wouldn't stop licking her lips!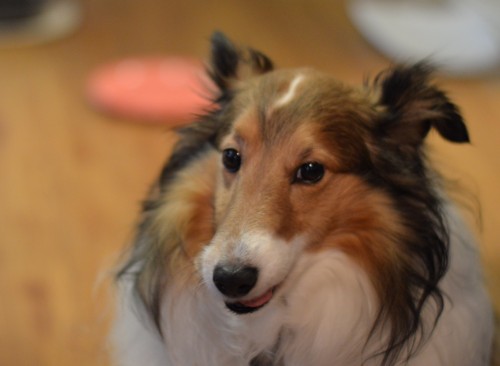 I also tried the Filet Mignon with her.
She seemed to like this one even more then the T-Bone Steak.  She did not stop at all while eating it.  Normally Foxy eats a little and then walks away for a little bit and then eats a little bit more but with both of these flavors she ate it all in one setting and then licked her plate clean! Then she gave me the I want more look!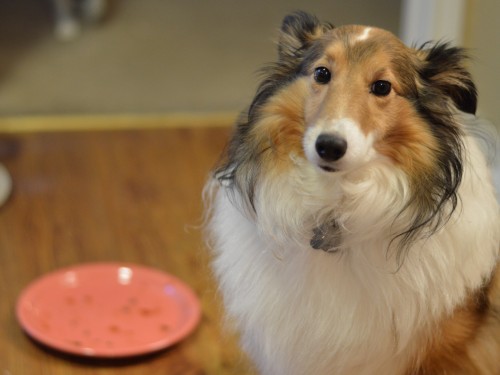 I will definitely be getting more of the ALPO® Chop House Dog Food!  Foxy loved it and the 5.5oz cans are the perfect size for her!
You can find ALPO® variety dog food at many local stores across the country!  Your dog will be thanking you for making the choice of ALPO® Chop House!  Make sure you follow ALPO® on Instagram. and ALPO's Facebook Page for update to date information on ALPO® products!