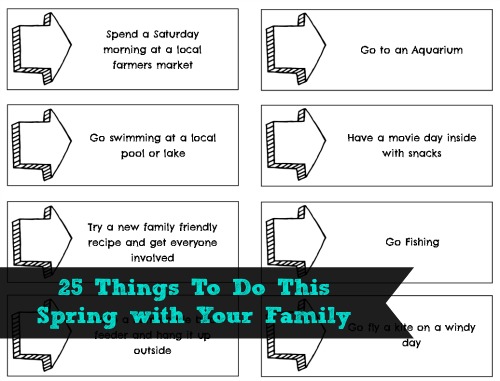 Spring is drawing closer even though I know a lot of people are still in snowy weather, but it will be here before you know it!  I've been trying to think of some fun activities I could do with my family and friends to enjoy the nice weather and get outside a little.  I thought it would be fun to make a jar filled with ideas so when we had time or just needed a push with an idea we could just draw one out!  Most of these you could do on the weekend or during the summer when the kids are out of school!  All of them are fun activities to get your whole family involved!
1. Plant something green (herbs, small vegetables, or flowers)
2. Have a picnic in the park
3. Go to the zoo
4. Take a hike at a local park or a state park
5. Visit a Farm to see the animals
6. Feed the ducks at a pond or lake
7. Draw pictures on the sidewalk with chalk
8. Find somewhere to pick fresh strawberries or other berries
9. Make s'mores on the grill or fire pit
10. Go star gazing and learn about the different constellations
11. Go goecaching and find some treasures
12. Read a good book together either inside or outside
13. Go bowling
14. Go to the beach if there is one near you or make an inside beach party
15. Spend a Saturday morning at a Local Farmers Market
16. Go to an Aquarium
17. Go swimming at a local pool or lake
18. Have a movie day inside with snacks
19. Try a new family friendly recipe and get everyone involved
20. Go fishing
21. Make a homemade bird feeder and hang it up outside near a window where you can watch it
22. Go fly a kite on a windy day
23. Play hide and seek or capture the flag at night (capture the flag is fun at night if you use glow sticks)
24. Make homemade ice cream either with a maker or in a bag
25. Make a fun family friendly craft
To help you get started I have made a fun printable with all of the activities on it that you can cut out and put in a jar.  I have also made a page of blank cut outs so that you can add things that your family wants to do this spring or summer!  You could even combine some of these if you want.  Like go pick strawberries and then come home and make strawberry ice cream.
Download the Spring Plans Printables Here!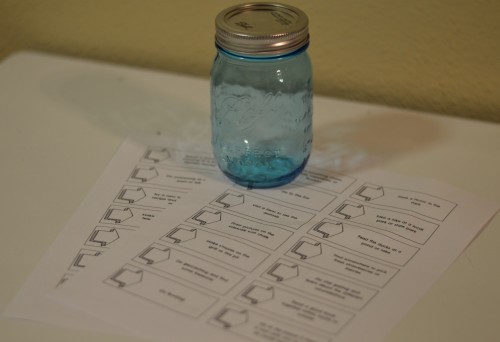 I printed it out for myself and cut out all the slips.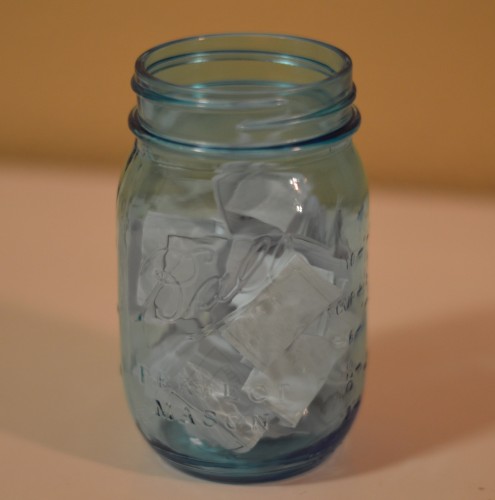 Then I folded them up and put them in a mason jar so  I'll be ready the minute it gets warm to start adventuring with family and friends!