Did you know that by keeping your carpet vacuumed and cleaned regularly it can extend the life of your carpet?  It can also cut down on the amount of dust, dander and other allergens if you or someone in your family suffers from asthma and or allergies.
I didn't necessarily know about extending the life of the carpet part but I do know that vacuuming  is VERY helpful when it comes to allergies. My son has allergies and I learned quickly that having a good vacuum can make all the difference when it comes to a clean home.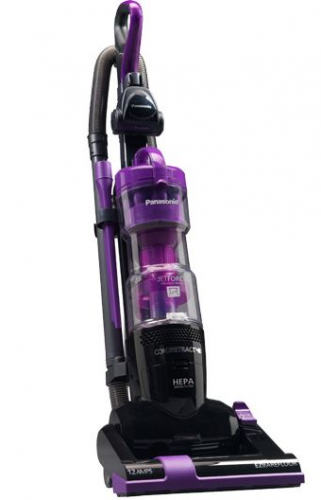 If you've hung around here long enough, you'd know that I have a thing for vacuums.  I've had several and am always looking for the next best thing.  I've had good ones, great ones and unfortunately some not so great ones.
When it comes to vacuums.  Some folks are willing to spend a lot of money for something they think will be the best and last forever, and some just want something cheap but effective. I personally want the best of both worlds.  I want one that works well, will last forever ( well at least longer than a couple of months) and not break the bank.
I think I found one.
The new Panasonic Bagless Jet Force Upright Vacuum Cleaner with 9X Cyclonic Technology is a vacuum that is effective and does a great job.  Before I go on to tell you why I like this one, I'll go ahead and share with you some of its features.
Features:
HEPA Filter
Powerful 12-Amp Motor
Automatic Carpet Height Adjustment
Pet Hair Air Turbine Brush
Bare Floor Option
No Loss of Suction
Quick Draw Wand with On-Board Tools
13″ Cleaning Path
24′ Automatic Cord Reel
Bagless
Soft Wheels
Why I love it.
Besides the fact that it's cute and comes in one of my favorite colors- purple, I simply love that it works well and comes at an affordable price.  Putting it together was no hassle and no tools are required at all.  The Jet Force Technology  is pretty impressive which separates the dust and air via centrifugal force and a unique hour glass dust container construction, allowing for no loss of suction.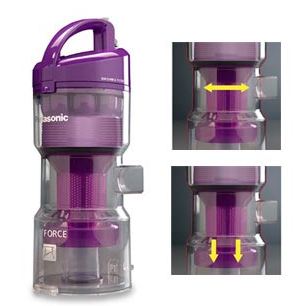 The vacuum also come with a technology that utilizes 9 cylinders for multicyclonic dirt separation and cleaner exhaust air.  With the 9X Cyclonic Technology  you can experience a powerful clean and no loss of suction thanks to the bagless cyclonic system with 9X cyclonic power. It also has a HEPA Filter in which I ALWAYS look for in a vacuum, because we all know, how great that is for capturing small particles such as allergens, irritants, and pollutants.
Why You Want It.
The Panasonic Jetforce vacuum is a great tool with many uses and will not disappoint. This handy vacuum boasts a powerful 12-Amp Motor and handles pet hair, short carpets, and hardwood floors like a pro.  The HEPA media filter, again one of my favorite features, captures many air borne pollutants keeping your air fresh and clean.  You also get an arsenal of accessories such as a stretch hose, wand, dusting brush and quick flip crevice tool that cleans hard-to-reach areas like between couch cushions and along baseboards.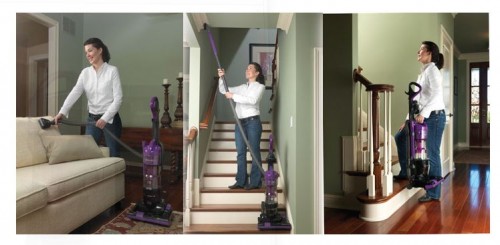 The Quick Draw tools including the on-board pet hair air turbine brush are attached to the vacuum which gives you instant access to effective above-floor cleaning.  Even more, the cleaner's easy-to-empty bagless dirt cup keeps hands away from dirt, while its standard filtration helps deliver cleaner air exhaust. And, if that isn't enough, to protect your vacuum from the inevitable, the Panasonic Jetforce also comes with a limited 1  year warranty.
Where you can get it?
You can purchase the Panasonic Jetforce Vacuum MC-UL247 online right now on Amazon for $116.98

"I participated in a campaign on behalf of Mom Central Consulting for Panasonic. I received a product to facilitate my review."