Because I know you all love Pinterest and great tasting recipes (with mouth watering photos!), I wanted to be sure I shared with you all about the  HEB Holiday Meal Pin to Win Pinterest Board.
There's also a CONTEST!
HEB just launched a new promotion – H-E-B's Holiday Meal Pin to Win Sweepstakes. Simply head over and enter your information on the Facebook application, pin the contest image, and re-pin 5 unique images from the HEB Holiday Meal Pin to Win board for a chance to win one of five $1,000 H-E-B gift cards.  Contest ends 12/31/12.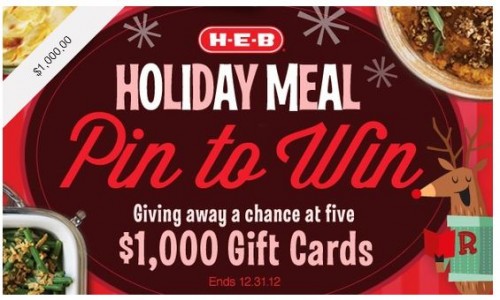 I encourage your to definitely take a look.  There are so many wonderful recipes available, I'm sure you will find quite a few that will definitely tempt your taste buds.
With so many recipes to choose from it was difficult for me choose just one but here is just one of my favorites I wanted to share with you and am excited to try!   The Pumpkin Parfait looks so good!  I will be making this soon and sharing with you the delicious outcome. I'm excited about trying this one because it looks so tasty but very easy to make!
For those of you who'd like to try, the Pumpkin Parfait is SUPER EASY to make.  I've included the instructions below so you can give it a try yourself.
 Pumpkin Parfait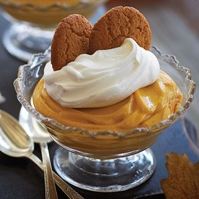 Ingredients
1 can pumpkin
1 pkg. (1.5 oz.) sugar-free vanilla pudding
1 tsp. pumpkin pie spice
1 can (12 oz.) evaporated milk
1 c. fat-free milk
1 pkg. (4 oz.) fat-free cream cheese
1/2 (14 oz. can) fat-free sweetened condensed milk
• whipped cream
• ginger snap cookies
Instructions
In food processor or large blender combine first 7 ingredients and blend until smooth (approximately 2 minutes).
Place in parfait glasses and chill until set.
Top with a dollop of whipped cream and 2 cookies just before serving.
**Full Disclosure:  I was provided with an HEB gift card in exchange for this post.  All thoughts and opinions are my own.