I recently had the opportunity to host a spa party. For the party, I needed snacks and being that all ladies were invited to the party, I decided on a dessert snack theme. When browsing Shari's Berries, I was surprised to learn that six companies are now in one convenient place to order! I was also thrilled to see a selection beyond Shari's beloved berries. I love the strawberries myself and could them for dinner as they are just that good , but I was thinking I was going to have a crowd so I debated on the Christmas cakes or the cookies for a long time while browsing! I went with something more bite size.
I found the Mrs. Fields Nibblers & Bites Basket.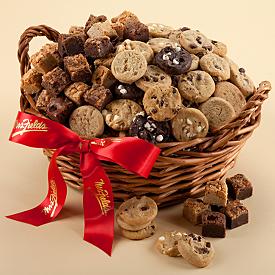 Description …
Perfect for a large group or family, this deluxe gift basket contains over 100 bite-sized goodies. Includes an assortment of bite-sized cookies and three dozen rich brownie bites for the chocolate lovers.
I loved the display and the small size of the cookies and figured it would be perfect to set as-is on my dessert table. I was honestly a bit surprised when the basket came looking like this with everything individually wrapped …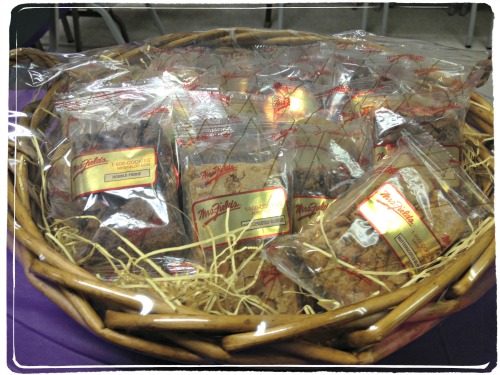 As I set-up for the party, I did appreciate the wrapped up cookies and brownies as they did tell what was in them instead of it being the mystery game of what are you picking up off the cookie tray.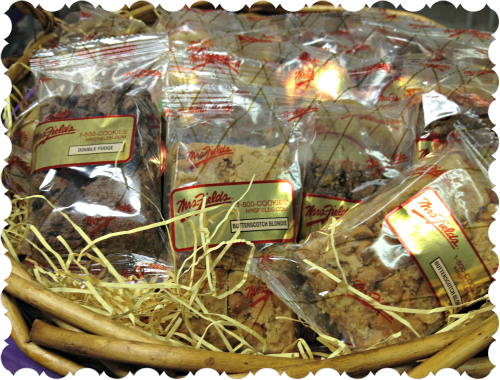 I don't think I would order this basket to send to someone since the display isn't as pretty when it arrives but I would definitely order it again for an event!
As with any product, the proof is in the enjoyment and my Sophie loved the cookies in this basket. Here she is enjoying one at the party.
What would be your favorite product to order as either a gift or for an upcoming holiday party? Leave me a comment and let me know!
Special thanks to Beth of simplybudgeted.com for assisting me with this review and sharing her thoughts on these products from Shari's Berries.  Beth received a gift code that was used for the purpose of this review.  All opinions are her own and was not influenced in any way.