While planning for our family vacation earlier this year, part of that planning included ensuring that our dog Spinna would be accommodated for as well.  As an extension of our family, it was important that his needs were met just as ours.   Before becoming pet owners, we could easily jump up and say let's go without having to take into consideration travel arrangement for a pet-but now that is no longer the case.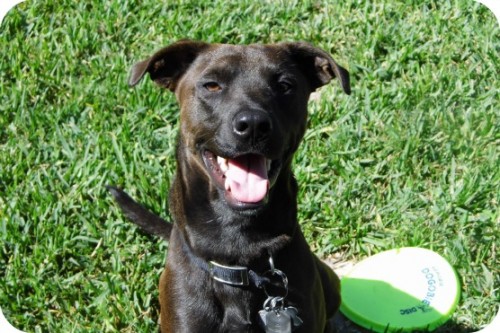 We thought it would as easy as picking up the phone and asking a family member to pet sit while we were away.  We heard all kind of excuses as to why it couldn't be done and decided to look into other options. I just could not see us leaving him unattended for an entire week.
Then there was the idea of boarding him at a kennel, and to be honest, I had my concerns about that.   Our pet is really spoiled, he loves attention and is very affectionate, so the thought of having to leave him in a kennel-with strangers didn't sit well with me at all.
Then, I learned about Best Friends Pet Care…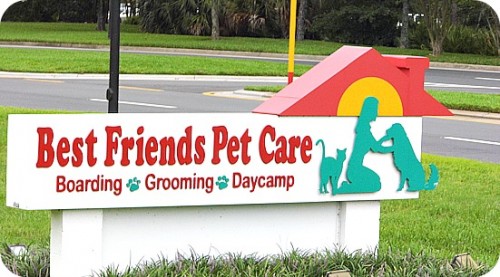 Best Friends Pet Care at Walt Disney World is a full-service pet resort with a wide range of activities, amenities and extras tailored to a pets needs.  Located just across from Disney's Port Orleans Riverside Resort, the complex includes accommodations for up to 300 dogs, cats and pocket pets. It also includes a full-service grooming salon and two doggy day camp rooms.
From the moment you pull up, you know that you have arrived at Best Friends Pet Care at Walt Disney World.  You are immediately greeted with fun and friendly architecture, an over-sized dog bone, fire hydrants and the cat face smiling at you as you walk through the front doors.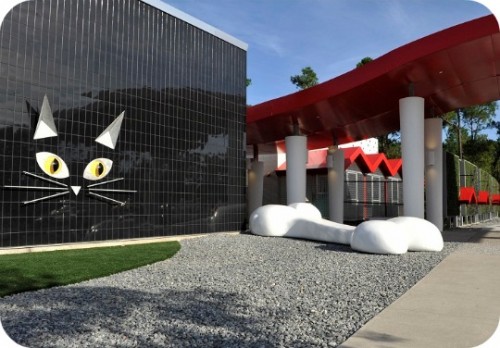 Other than the warm and inviting feel of the facility, the one other thing that impressed me most was the attentive and knowledgeable staff.  Their smiling faces made check-in in many ways more comfortable.  The lobby was also clean and rather quiet  for a kennel.  We did however hear occasional barks which was absolutely expecting being that we were in a kennel after all.
Unlike some boarding facilities, Best Friends Pet Care will let you tour the facility. For me, it was a real comfort knowing that they had nothing to hide and I was provided with a full tour of the facility.
SPINNA'S STAY AT BEST FRIENDS
Finding a place where you know your pets are happy when you can't take them along makes for a much better trip!  After visiting the facility, I didn't mind leaving Spinna behind and also liked that they encouraged families to come visit when ever they want.  We definitely took advantage of that and visited Spinna daily either in the morning heading to the parks or some time during the evening as we were heading back to the resort we were staying at.
Bestfreinds offers several boarding options depending on your needs and budget.  There are VIP suites available, Vacation Villas and the Indoor-Outdoor 2-Room Suites.  Spinna was accommodated  in a Vacation Villas for half of his stay and the remaining few days in one of the Indoor-Outdoor Suites.  And although Spinna did not get the opportunity to experience the VIP Suites, I must say that the Villas were also very nice. His   villa was a 72-square foot space with raised bed, a flat screen TV, and private outdoor patio.  He also had the pleasure of  watching the Animal Planet and the Disney Channel when it was time to kick back and relax.  I also loved receiving the emails and photos from Spinna enjoying his daily activities.  It made my day each time I receive one.
Here's Spinna relaxing on his comfy bed: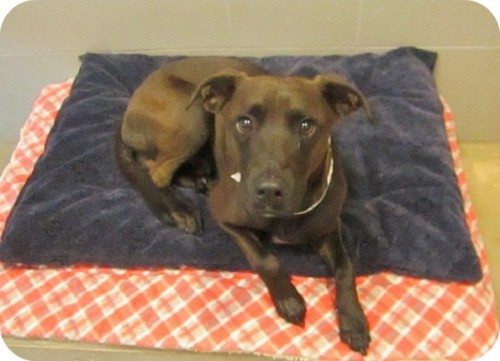 Here is a view of the Villa: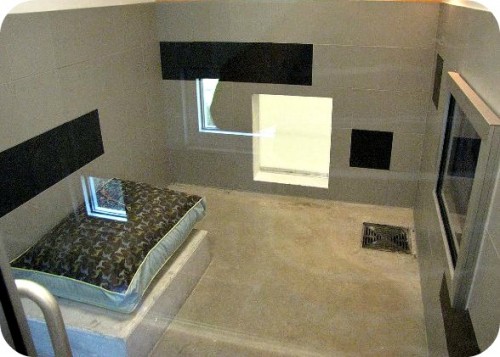 Stay in the Vacation Villas also included 1 potty walk, 1 playgroup session, and turn-down service.  Spinna  didn't get to participate in group play because he was not neutered and I understand that completely.  I realize that could have been a disaster waiting to happen.
He did however get one on one playtime with the staff and we could visit anytime of the day to take him for a walk , have him run around and enjoy some bonding time.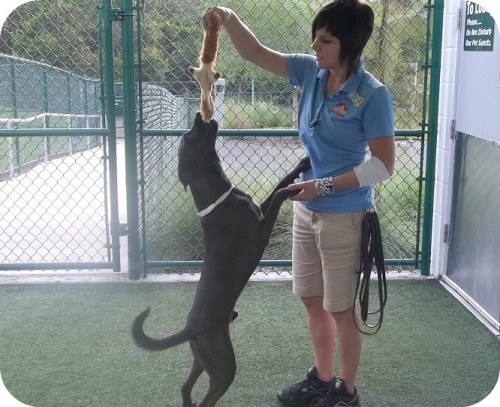 There even was a bedtime story!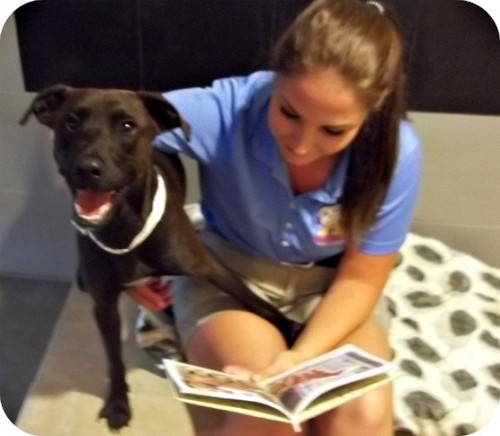 The outdoor dog park has a large water feature for active dogs looking to cool off exclusively for Best Friends guests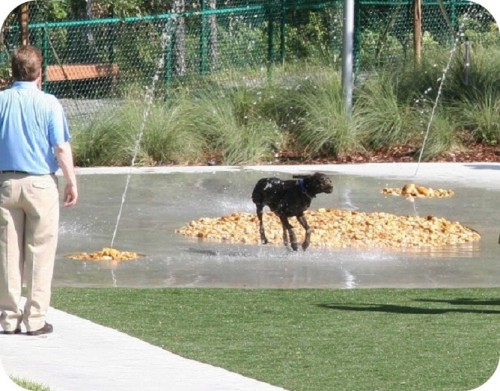 Pluto also plays there.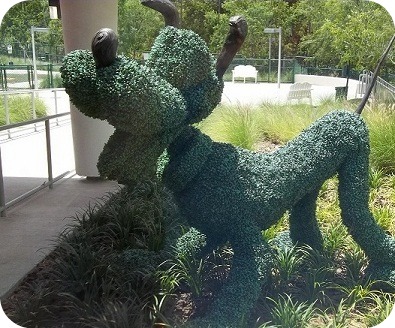 As for the price of boarding, prices will vary depending on what type of accommodations you choose.  Most prices however fall into a reasonable category.  You will be allowed to bring your pets own food from home and one of his or her favorite toys.  Vaccination records will be required as well as a collar and leash .
Spinna loved his stay there but was extremely excited to see us come to take him home.   But before he left, he did let the staff know just how much he enjoyed his stay by licking them all before we left. He clearly was treated well and they clearly enjoyed him being there from all the smiles on their faces.  Spinna's stay at Best friends was a positive one.  I did however have some  reservations in the beginning but they were quickly put to rest after a couple of days.   The staff made a huge impression on us all.  For our next vacation to Disney World, we will definitely be our resort of choice.
For more information on Best Friends Pet Care,  be sure to visit Best Friends Pet Care at Walt Disney World Resort.
Heading on the road soon and traveling with your furry friends, here are some car safety tips when traveling with your pets you find find helpful.
Disclosure:  Spinna was  provided with a complimentary stay in return for us sharing our opinion about his stay at Best Friends Pet Care. All opinions are my own and were not influenced in any way.