Over the past few months, my husband and I have spent a lot of time talking about getting a new vehicle.   The type of vehicle I want has been the setback because I really don't what I want.  I do know; however, that I really don't want anything bigger than the SUV I currently drive, nor do I want anything as small as a car… so finding what I like has been my mission.
A few weeks ago, I have the opportunity to test drive a 2012 Kia Sorento.   This was great because I could try it out and see if it was the right car for me.   We hadn't purchased a new car in years so being able to ride around in a car with that new car smell had me all excited!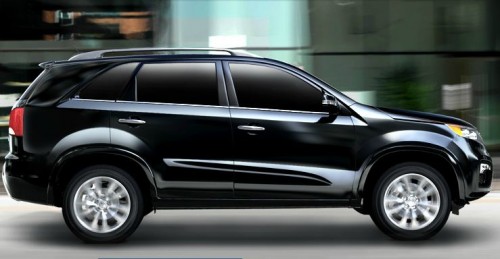 The Look
At first glance, I just loved the look and style of the 2012 Kia Sorento.  It wasn't to big  and not too small.  It seemed to be the perfect size for me and my kiddos.   It has been surprising that many people do not identify the new Sorento as a Kia… which in my opinion is a good thing.  Kia has come a long way since I purchased my very first car in 1996 which happened to be a Kia Sephia.   I just loved that car, so from the start, I've always been a fan of Kia and I am delighted to see all the great changes.
I really don't have any major complaints with our current SUV other than the fact that it's old and I'm longing for something new and compared to a newer vehicle, it has very little features.   So after driving the Sorento, it made me realize just how out of date our current SUV really IS and have me wanting some of the fancy features of a new car!
The Smart Key System
The Smart Key System is probably one of the more convenient features I enjoyed and one of my favorites.  For someone like myself who is always fumbling around with keys, this came in really handy.  It was great not having to fumble around for keys when my hands are full with bags and other stuff.  This is such a cool feature meaning that you don't start the car up with a key.  Basically the car starts up with the press of a button just as long as you have the key fob as it's called in your purse or on your person.  I found this to be such an easy and quick start option, but to be honest, did have to get used to it at first and remind myself that the key wasn't needed.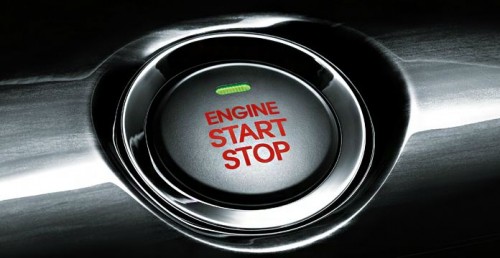 Backup camera and rear sensors.
Pulling out of my drive always take me a few extra moments because I am always double checking to make sure there are no hidden objects, pets or kids in my path as I pull out.  Call me paranoid but I sometimes would get out of the car and take a second look just to be safe.    I love this feature because not only can you see what's behind from the screen, it also gives you a beep if you come to close to something.  It did take some adjustment in terms of using (and trusting) the camera but I hope to have one in my next vehicle.   This is such a great feature that would come in handy at home, school or parks.  It can help prevent folks from hitting things and even more importantly keep kids safe.
Power Folding Outside Mirrors
Loved this.  I was really impressed with the Power Folding Outside Mirrors as well.   It was one of those features I'd expect to see in most luxury vehicles, so I was pleasantly surprised to see it in the Kia Sorento. The power folding side-view mirrors offer an added level of convenience for those tight parking moments we all have come in contact with.  No longer would my husband have to tell me to pull in the mirrors when he's trying to park.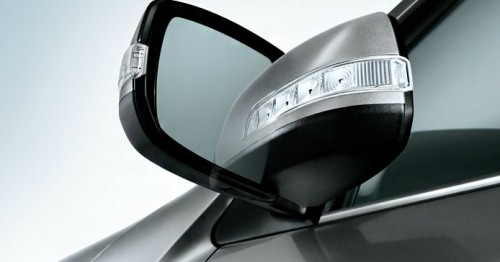 Satisfaction
Driving around in the 2012 Kia Sorento around was pleasant for our family.  Not only was it hit with mom, the kids loved it too.  They constantly kept asking " is this the car we will be getting?" It was nice knowing that they had an opinion, and since they would be regular passengers of mine, it is important to have their view points as well.
I felt really comfortable behind the wheel as if it was the "right car for me".   The features of the Sorento were an added plus, but what really stood out for me was the drive.  I liked how it drove and handled itself on the road, and for me, that was the most important test of it all.  That and the fact that is has great MPG is just AMAZING! Two very big pluses for me.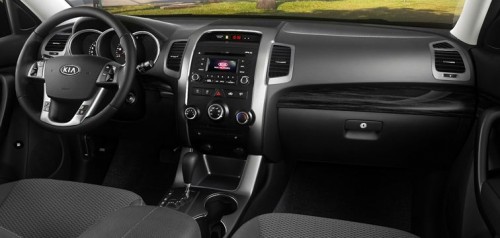 The interior was also incredible!  I just loved the sleek and modern design.  Seating was comfortable and just the right amount of space for our 2 kid family.  I also loved the climate control for driver, passenger and passengers.  Little things like this can actually make a ride comfortable for everyone especially when you cannot agree on the same temperature.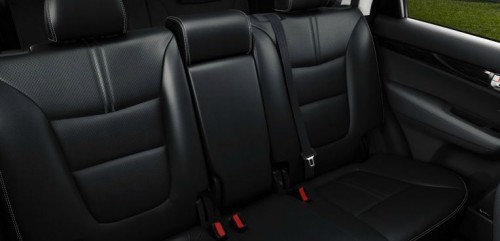 My boys are usually the only two sitting in the second row and they had ample enough of space to move around.   My youngest, for some reason, favored the 3 third seating and would hop back there and claim that as his area.  Fine by me, that was less bickering I had to hear.  When the 3rd row seating was down, it also provided ample enough space for storage and groceries.
The entire family loved it!
There are even more amazing features I could list and mention because the list goes on and on.  And although not an extensive list, here are a few more at a glance.
2012 Kia Sorento features:
2.4L gas direct injection 4-cylinder engine
6-speed automatic transmission with Sportmatic
4-wheel drive
Dual front advanced airbags, front side airbags, side curtain airbags (1st and 2nd row)
Anti-lock brake system (ABS)
Automatic climate control
BLUETOOTH wireless technology
Adjustable power driver's seat with lumbar support
2nd row armrest with cup holder
To learn more about the Kia Sorento EX, visit their website at: www.kia.com.
Kia provided me a Sorento to drive, and all opinions above are my own!