Spring  time is a time of freshening, renewal and restoration.  I'm not sure why it is but Spring time often motivates spring cleaning both in doors and outdoors in which the process usually ends with a collection of stuff ready for the trash.  Just this past week, the weather was gorgeous so I decided it was perfect time to "clean house".   Spring cleaning somehow feels different than regular cleaning and for some odd reason, I look forward to it.
If it's time to clean, then it's time to take out the trash.
Cleaning for some may be rejuvenating , but it could also be a big pain as well if you don't have a bag that can stand up to the test.   Not all bags are created equally …and to know this, you'd have to experience a few torn bags to know this first hand.  Glad trash bags are mainly used for trash purposes. But they have other uses too!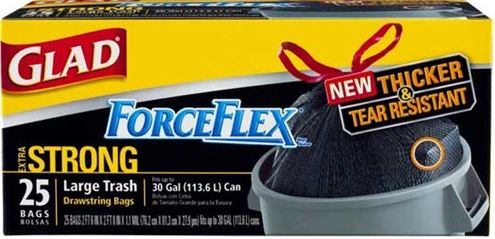 I received a 25 count of Glad® ForceFlex® black bags to try out and they sure stand the test. With the sturdy diamond texture of the bags, the uses are endless. The first place I had in mind was to head to boys' room and get some organization going on in there.  They have countless toys, clothes that are too small and blankets that will be finding a new home soon.  We try to donate at least two times a year to our local donation center and they bags have come in real handy.  The bags are available in 30-gallon and 33-gallon sizes, large enough for plenty of storage!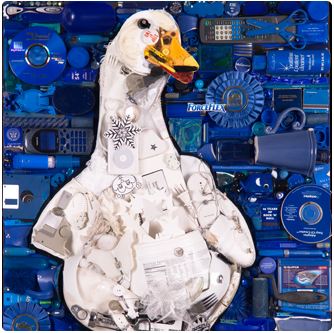 Glad Black Bag is encouraging moms to celebrate life's wild moments.  You never know when a mess will occur and that's okay, because cleaning up these staggering messes isn't so bad anymore. Glad Black Bag has teamed up with Keep America Beautiful to find cool new ways to re-use trash from Great American Clean-Ups across the country.
To help jumpstart this effort, Glad Black Bag partnered with the Picker Sisters–interior designers Tracy Hutson and Tanya McQueen – to celebrate and clean-up life's wild moments. They're taking "remnants" from life's biggest celebrations or everyday happenings and repurposing them in artful, stylish ways. Plus, celebrated mosaic artist Jason Mecier will be working with Glad Black Bag to create four works of art with people's trash or "wild life remnants." He'll create art out of items collected during the clean-up events, as well as items donated by some great celebs.
These works of art will be auctioned off during the Glad® Black Bag art auction on eBay for consumers to bid on.  All proceeds raised throughout the Glad Black Bag auction will benefit Keeping America Beautiful's Great America Cleanup.   The Auction ends on April 30th.  I think this is such a wonderful  and powerful way to celebrate creativity all while helping the environment!

I wrote this review while participating in a blog tour campaign by Mom Central Consulting on behalf of Glad Black Bag and received a Glad Black Bag product and a promotional item to thank me for taking the time to participate. I was also asked to "pin" one (1) Glad Black Bag Art Auction photo on Pinterest.