If you ask anyone I know, they will tell you that I love everything and anything that's all about Coca Cola. Coke and food have always been part of my family traditions and aside from being a America's favorite beverage, Coke can also be used as a "secret" ingredient used when cooking.  I haven't personally cooked with Coke until now, but I have tasted a many dishes prepared with it. Some of my most memorable moments growing up involved getting together with family, laughing, talking and just having fun.  And, somehow Coca Cola always seemed to be a part of the occasion.   In many ways, a get together just didn't seem like a get to together without the whole family and Coca Cola.
This spring, Coca Cola wants to bring  families back together and have teamed up with celebrity chefs  G. Garvin and Ingrid Hoffmann to bring you great recipes with Coke with Meals through My Coke Rewards.  You will find a variety of delicious meal ideas and  fun things to explore. You can create a shareable cookbook of your family's all-time favorite recipes, read and share tips on how to get kids, pre-teens and teens involved in the kitchen, or you can simply browse for new recipe ideas.  There are also videos available for some of the recipes that I find very helpful because sometimes you just need a visual for things to sink in.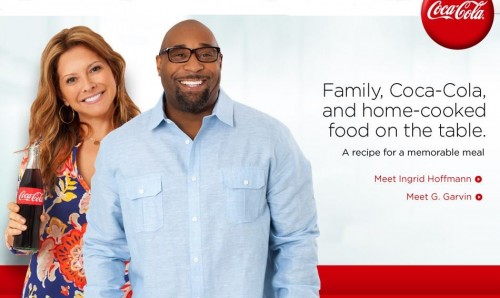 If you're a real devotee of Coke and love to cook, you really want to check out the site for some really fabulous recipes, I have already found several that I cannot wait to try!  My first attempt was to try out these Coca-Cola BBQ wings by G. Garvin.  Now while my photo is not the best, you have to believe me when I say these are fabulous!  They are indeed some of the best wings I've ever tried and prepared on my own. These are definitely a winner.  G. Garvin is amazing and I can't wait to try out his other recipes.  Ingrid has some really enticing recipes as well.  I think I might wanna give the Coca-Cola beef stew a try.
 
My Coca-Cola® BBQ Wings
To check out the recipe to G's Coca-Cola® BBQ Wings and to take a look at his how-to video, hope on over to the site now. While you're there be sure to check out the other fascinating recipes.
So have you cooked with Coca Cola before?
I'd love to hear what you've created.  If not..go ahead and give it a try.  You may find out that you just might like it!
*Compensation was provided by Coca-Cola, but Coca-Cola is not a sponsor, administrator, or involved in any other way with this post. All opinions expressed are my own and not those of Coca-Cola.