I'll just go ahead and get it out the way.  I'm a big fan of the McClain sisters. There I said it. My boys however are even bigger fans. Don't tell China but my 10 year old has a huge crush on her.  I just love how his face lights up when he sees her on A.N. T Farm.  She's such a cutie.  In fact,they all are and are just as talented which is why I was happy to learn that their newly released music video "Rise" for Disneynature's CHIMPANZEE can is now available on YouTube. You can see the video below…it's awesome!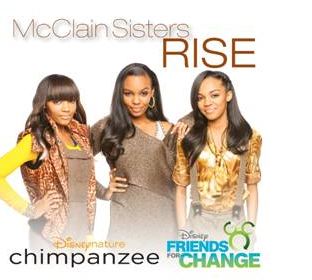 Just who are the McClain sisters?
The McClain Sisters, are comprised of China Anne McClain and her sisters Lauryn, and Sierra. The groups lead singer China Anne McClain starred in Disney Channel's A.N.T. FARM, in the House of Payne television series and the movie The Gospel. Together, the sisters starred in Tyler Perry's movie "Daddy's Little Girls" in which they also played as sisters.
More about this song:
"Rise" is the latest Disney Friends for Change anthem. With the motivating lyrics "Together we can do anything," the song captures the central message of the program: When kids and families work together, they can inspire each other and their communities to make a lasting, positive change in the world. "Rise" is the fourth Friends for Change anthem to be released with a benefit back to the Disney Worldwide Conservation Fund. This contribution marks nearly $1 million awarded through the music campaign to charities working to protect the planet and conserve nature for future generations.
Disneynature's newest True-Life Adventure CHIMPANZEE will be in theaters Earth Day April 2012. We have already seen the trailer several times and can't wait to see it when it arrives in theaters on April 20th.
Be sure to "Like" Chimpanzee on Facebook at Facebook.com/Disneynature and follow them on Twitter at www.twitter.com/disneynature.