Women want flawless, beautiful and vibrant looking skin.  We all want it but what does it take to get it?  I'll tell you one way in just a few moments.
A few weeks ago, I shared with you my chance to review the Meaningful Beauty anti-aging skincare system.  I'm sure you've seen the infomercials featuring a flawless and amazingly youthful looking Cindy Crawford.  Yeah that one!  The first thing that came to my mind after seeing it was…Really?  ( in a really sarcastic tone).  Mind you, I'm a skeptic and don't always believe what I hear on infomercials but I was presented with the opportunity to try it so I couldn't pass up the chance.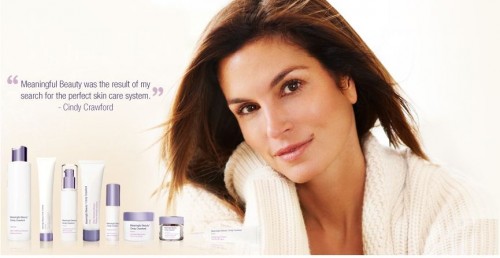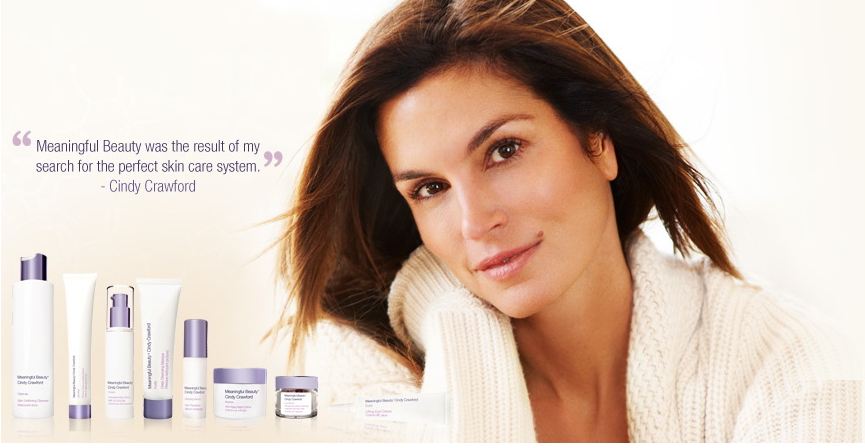 So it's been about a month now and I wanted to share with you my experience.
About my skin
I have pretty normal skin. Partly a combination of oiliness and dryness in certain areas.  My main concerns however are to maintain firmness and to combat those nasty little crows feet.  Overall, I think I've done a pretty good job in maintaining my skin but I'd like to stay on good terms with father time so if it includes adding in a daily skincare regimen, then I'm all for it!
Before You Read More
Let me just get this out of the way.  If you're thinking, you're gonna just magically turned into Cindy Crawford or even look like her in the slightest way then forget.  The products are good but not that good lol and results will probably vary for each person.
The Routine
The Meaningful Beauty routine is a 5 step program that is to be used both day and night.  It may sound like a lot but it really isn't.  My skincare routine was probably one of the simplest prior to starting this one and I've had no problems adjusting. It takes all of about 5 minutes and the results are well worth it.  My skin feels amazing!  No more breakouts and my skin feels really soft.  I think I am worth the extra 5-10 extra minutes to do something good for myself.
The Meaningful Beauty 5-step kits will consist of:
Skin Softening Cleanser
Antioxidant Day Crème SPF 20 UVA/UVB
Crème de Serum (New)
Lifting Eye Crème – Advanced Formula (New)
Skin Brightening Décolleté and Neck Treatment SPF 15 (New)
 My Experience
I've never really followed any type skin care regimen before but I'm enjoying using these products. I LOVE the way my skin looks and feel. The first time I used the system, I could really feel a difference in my skin.  I have very sensitive skin so I was hoping it would not get irritated.and it didn't.   The cleanser has a mild scent, silky texture that will leave your skin feeling smooth and refreshed.
The moisturizers are amazing and a little bit goes a long way.  I never realized what a difference a moisturizer makes until I started using one.   As I mentioned earlier, I am really trying to target the crow's feet. I have not yet formed a solid conclusion about how effectively the eye cream works just yet but I do see an improvement. I can't exactly pin point what it is just yet but it is promising. I don't have that usual tired look around my eyes so that in itself is a plus.  I'm beginning to see a more refreshed look.  I'll keep you posted as I continue to use it
Overall I am very pleased with the Meaningful Beauty skin care regimen.  The more I use it, the easier it is becoming a part of my routine. I shared the additional kit with my sister and she is really pleased as well. As busy moms, it is not always easy to create time for ourselves but I found that by taking just a few extra moments in the morning and at time really makes a difference.  I enjoy doing something just for me and when I look into the mirror and see the results, it is such a pretty picture.
Do you have a special skin care routine?  Share with us how do you take care of your skin?
I wrote this review while participating in a test drive campaign by Mom Central Consulting on behalf Meaningful Beauty, and received a 5-step treatment kit to facilitate my review, a second 5-step treatment kit to giveaway, and a promotional item to thank me for taking the time to participate.