The new year recently began, but Valentine's Day is nearly here. While there's still time to craft a special gift for the sweetheart in your life, try this easy-to-make drink as an alternative to chocolates or jewelry.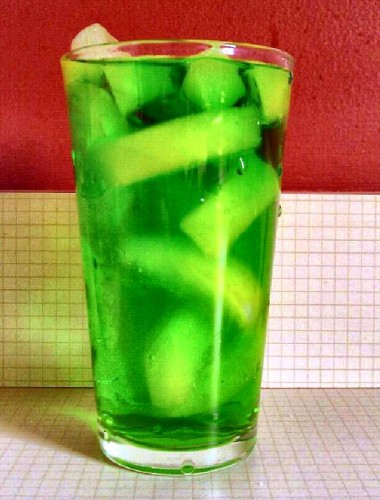 Skittles vodka
You'll need:
• Five glass bottles – upcycle bottles you have on hand, making sure they have lids. Orangina bottles can make this gift look like a love potion – perfect for Valentine's Day!
• Five plastic cups
• A funnel
• Coffee filters
• A two-pound bag of Skittles
• 1.75 liter bottle of vodka
1. Add Skittles by color to each glass bottle. The vodka is goin
5ac
g to be pretty sweet when you're done, so you might want to give this craft a taste test – carefully! – before deciding how many candies should go into the final product.
2. Add 10-12 ounces of vodka to each glass bottle. Seal and shake every few hours. The candy should dissolve completely in about 24 hours.
3. The candy will create foam that needs to be filtered out. Line the funnel with a coffee filter and slowly stream the candied vodka from the glass bottles into the extra cups, so you can scrape away the foam. Be careful as you pour. The foam will build up again if you pour too quickly and make it difficult to pass vodka into the temporary container. Once the foam is gone, funnel the vodka back into the upcycled bottles.
4. Chill bottles in the freezer. Keep in mind that the cold will cause the liquid to condense, so fill the bottles close to the top. Serve when you and your sweetie are ready for a treat!
In a long-distance relationship? Don't worry. Modify the craft slightly by packaging different-colored Skittles in pieces of tissue paper tied with ribbon. Invite your sweetie to eat the 'magic' candy to ensure you're back together again soon. Include a handmade card and photo of you in your Valentine's Day finest, and use worldwide express shipping to make sure your gift arrives in time for the big day.
Kristine is a die-hard romantic whose fiancé is studying abroad in Japan. In addition to DIY crafts
5a5
like these, she enjoys making Scrabble tile jewelry and outfits for her Scottish Terrier, Pete.