Now that I'm getting older, I'm starting to notice a change in my complexion and my skin.  Is this a sign of me "getting older"  or a sign of my once young looking skin starting to let me down.  Whatever the reason, I think it's time I start taking better care of the skin.
Up until this point, my skin care regimen has been really simple. Plain water, witch hazel and at times a  moisturizer.  Real simple right?  Even with such a simple regimen, I still get that I look like I'm in my twenties.  So why is it that when "I" look into the mirror, I don't see a twenty something year old?   But I'll take the compliment!  I think it's time that I do more- be more proactive to keep my skins appearance looking healthy and radiant.  I am very excited to be participating in the Meaningful Beauty Test Drive. Over the next four weeks, I will be using this anti-aging skincare system created by Cindy Crawford and anti-aging specialist, Dr. Jean-Louis Sebagh.  I'm excited to what this system can do for my skin!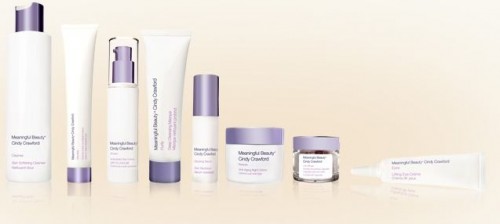 As a part of the test drive, I also received a second Meaningful Beauty kit to share with someone meaningful in my life.  That would be my sis.  My mom, at 71, looks FABULOUS so I think whatever she is doing is working great!    My sis and I are hopeful that mom's genes will help us out along the way but for some added reassurance,  we welcome all the help we can get.  Our skin is very different from one another so it will be very interesting to see how the system works for us individually.
The Meaningful Beauty 5-step kits will consist of:
Skin Softening Cleanser
Antioxidant Day Crème SPF 20 UVA/UVB
Crème de Serum (New)
Lifting Eye Crème – Advanced Formula (New)
Skin Brightening Décolleté and Neck Treatment SPF 15 (New)
The 5-step program sounds easy enough to follow and I'm excited to get started!  My goal is to see an overall improvement of my skins appearance but I will be paying close attention to my eye area.  I will be following up with my experience in a few weeks so make sure you check back for an update on my experience and hopefully some skintastic progress!
I wrote this review while participating in a test drive campaign by Mom Central Consulting on behalf Meaningful Beauty and received a 5-step treatment kit to facilitate my review, a second 5-step treatment kit to giveaway to someone meaningful, and a promotional item to thank me for taking the time to participate.