Have you seen the new Blooming Expressions from Hallmark?  I have seen a few commercials on them and thought oh how neat is that a perfect way to say I love you to that someone special then an adorable closed rose in a nice vase that when turned on it blooms and reveals one of four messages. The flower that I got blooms and says "There's Only One You", as soon as I got it and opened it up, Maddisyn watched me press the button to make it bloom and promptly proclaimed it was her flower.  I love it but as soon as I got it, it was taken away.  I think Lee may go buy me another one for Valentines Day since I was bummed Maddy stole it but if you would have saw how excited she was about it you would totally get it and would have given it to her too.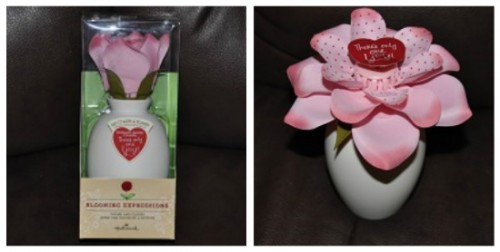 As I mentioned the Blooming Expressions from Hallmark come in four different sayings.  They say "There's Only One You", "I Love You", "Love You Lots", "You Are The Heart Of Our Family".  Check out the full garden of Blooming Roses at local Hallmark Gold Crown stores and select Hallmark retailers.  Check out the cute video below to see the blooming roses in action.
We also received a fantastic recordable storybook from one of the new titles they have recently added to their lineup.  Maddisyn already has the My Little Princess title which she has read so much it is falling apart and the cover has literally fallen from the book.  I would have to say that makes it a hit in our house.  We bought that one for her because when her dad goes out of town it makes bedtime hard since he is the one who reads her bedtime stories.  So this way he can still read to her.  Holden loved the book too and so when I got the opportunity to try out one of their new books I was all over it.  We were lucky enough to receive one of my favorite Robert Munsch books.  I love that it is now a recordable storybook and once I am done recording it Holden can have a copy of my reading I Love You Forever to him.  I bought this book when I was pregnant with him and read it to him all the time while I was still pregnant and when he was born, now he recognizes the book and loves that he has his very own copy that mommy can "read" anytime.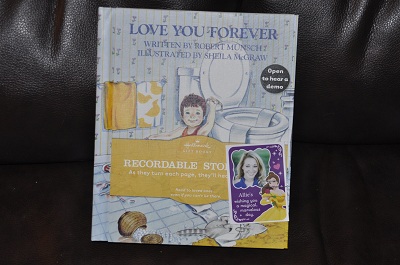 If you are looking for a way to read to your child at bedtime or anytime of the day whether you are home or not then I highly recommend the recordable storybooks from Hallmark.  It is even a great idea for grandparents who can't be there all the time to read to their grand kids.  I plan on getting Kinley one when she is born, I was browsing the titles and I really like the books All The Ways I Love you and Goodnight Moon so I will pick one of those and record it for her.
For all the latest news, updates, special offers don't forget to follow Hallmark on Twitter and Facebook.
Disclosure:  Hallmark sent me the above Blooming Expressions rose and Recordable Storybook for review purposes, opinions are my own.