When kids are young, they unfortunately do not have a good concept of time and don't always adhere to our sleep schedule.  Who cares that  mom wants to sleep in late on the weekend?   Surely not your kids!  Just when you think you are going to enjoy a few extra hours of sleep, here comes the little one barging into your room. At 6am… On a Saturday morning… Demanding you get up and start your day.  Sometimes they just do not get it, but it is not their fault totally, they just need a little guidance. 
I was offered the opportunity to review a ZAZOO Photo Clock  recently and it is definitely a mommy must have.  My boys are old enough now to understand the difference between day and night but I could have really benefited from this when they were younger.  Now that they are older, it is still one pretty cool clock.  The ZAZOO Photo Clock is more than a photo clock. It's a clock, a photo frame, a video and MP3 player all wrapped into one. It even comes with a remote ! Teaching kids the difference between night and day could not be more fun.  The ZAZOO Photo Clock is a contemporary multimedia accessory that teaches children the concept of "sleep" and "awake" while helping parents the opportunity to create healthy sleep habits in a fun, educational way.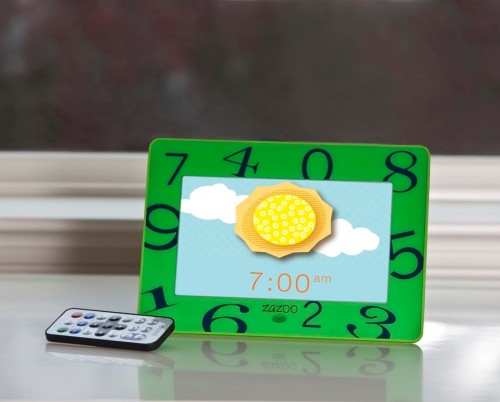 The concept of the clock is really simple.   The clock has two pre-programmed image sets of "awake" and "asleep" photo options that help your child know when to stay in bed or get up and start the day. When a child sees the sun image on their ZAZOO Photo Clock, they know it is time to wake. If they see the moon photo, that lets them know they should stay in bed until the alarm picture changes.
The alarm can be set for both naptime and bedtime. You can even personalize the awake and sleep images by uploading  personal images of your kids sleeping or waking up.  For an even  more personalized touch, you can even download your child's name in images to be used on the clock.  

The ZAZOO Photo Clock is amazing and brillant all at the same time.  It can grow with your child even up to their teen years.   My son really enjoys this clock and operates it fairly well on his own.  He has even showed me a few things or two.  His favorite part has to be all the features the clock  has to offer.  As I mentioned earlier, The ZAZOO photo clock is more than just a clock.   It comes with a USB cord and the option of adding a SD memory card so that you can upload pictures, videos and even music.  You can create a picture show of your kids favorite photos  and watch their excitement as the pictures scroll by while set to some of their favorite songs. In a nutshell, this little clock does a lot and can really grow with your kid for years to come.

If you could use a little help with getting your kids to bed and staying there until its time to get up, then the ZAZOO Photo Clock could really help.  I think it is really one of those products that is beneficial to both mom and kid and then maybe you can get those extra 2 hours of sleep on the weekend you all deserve.
PRICE: The ZAZOO Photo Clock from ZAZOO KiDS retails for $89.99

.

Win It!