Hello Everyone!  It is my delight to introduce our newest contributor here at Cocktails with Mom-Keesha B of Mom's New Stage!   Keesha is an amazing writer, full of humor and  great imagination. I love her wit and I'm sure you will too.  Please help me welcome her and be on the look out for her amazing contributions.  Welcome to the team Keesha!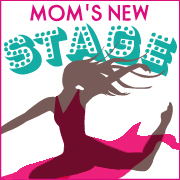 It is Friday, and the mom has a day off from work college downtown.
In the Hyde Park neighborhood of Chicago, a mom pushes a red double stroller that is longer than say, an ocean liner.  She is having an animated convo via bluetooth.  Every few paces she stops to claw furiously through her abyss of a diaper bag, sometimes for something for herself, sometimes for something for one of her kids, who are did-you-do-that-on-purpose? close in age.  She arrives at a playground and spends several hours chasing around the kids, making sure they don't kill themselves or anyone else, distributing snacks,  kissing boo-boos and hopefully indulging in brutally honest yet hilariously funny chit-chat with another hip and clever mom.
She gets home LATE and frantically throws together a lunch of cheese sticks, crackers and fruit, which the kids eat none of because they filled up on Veggie Booty at the park.  She shakes her fists at the heavens.  She wishes it were 5 o'clock so she could make this "lunch" into the stomach padding for her wine. She puts the kids to their nap LATE.  During nap she has visions of answering emails, cleaning up, tackling a project and watching some TV or maybe even taking a nap.  A friend calls, so she squanders the kids' nap sitting on her ass, running her mouth. The kids wake up an hour before dinnertime, but it takes the better part of an hour to calm down the one who is having an emotional breakdown that makes L.Lo look like the Dalai Lama.
She thanks all the saints that it is pizza night and throws some broccoli atop the frozen disc.  Her husband comes home, and they all eat dinner as a family.
After dinner she tries to clean up, play with her children and prevent a trip to the E.R.  She and hubby bathe the kids and struggle to get them into bed.  Even though it's Friday, COO duty continues – cleaning/straightening up, making sure nothing crucial, like milk, is on the verge of running out.  Maybe some time with Hubby, then to bed, since kids, as a rule, don't sleep in.
As her head hits the pillow, she chokes back a sob as she remembers what her life was once like. (Insert sad violins here) She was a dancer.  She took classes, taught a little and went to rehearsals.  Her life was all about dance.  Her life was all about being creative.  It was about her tight little body.  People used to ask her to choreograph things and do guest teaching.  She had time to prepare fabulous choreography for her dancers.  She had the time to be inspired by others' performances. Daily, she worked out. Daily, her artist's soul was fed.  Not that her beautiful offspring didn't provide her with some transcendent moments.
They did.
But most days she felt worked over like a plough horse.
And about as attractive.
So she started writing so that people could see the imaginative wit that lurked within the oompa-loompa of a woman wearing oversized underpants with a fruit print, a pilling sweater and jeans that screamed 2005.  Writing didn't only make her feel better; it made her feel frumptastic!
Yes, you guessed it.  That woman is Michelle Obama.
Seriously.
That woman is me, Keesha and I blog at Mom's New Stage!
Okay. Enough already. Take your seat.  It's curtain time.
-Keesha