It's not everyday you get to celebrate the Chinese New Year in Indiana. Thanks to P.F. Chang's generosity, my family was able to look into the Chinese New Year and get a little glimpse of the celebration and importance of it all. First of all, I would like to say that P.F. Chang's is very generous to their customers and I am very grateful for the chance to try these products. After trying the entrees and experiencing a little of what the company is about, they have truly won me over as a customer for life. My family had the chance to try the Garlic Chicken with Dan Dan Noodles & the Firecracker Shrimp with Yakisoba Noodles. Both were delicious, but I want to tell you about them individually.
Garlic Chicken with Dan Dan Noodles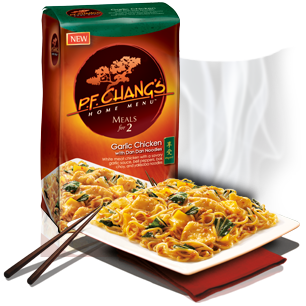 This entree from P.F. Chang's was simply delicious. It was easy to cook on the stove and turned out perfect. You see, these are the kind of dishes I need in my home to cook. This is a prime example of the kind of dishes moms should try with their families. I have a 1 year old, 2 year old and a hungry husband. The entree was perfect for us and my kids all loved it. The noodles were a favorite of mine and how they just sort of melted into the chicken. I would say that P.F. Chang's hit the nail on the head when they created this frozen meal for families like mine! By-the-way that picture makes me want to eat this all over again. Because it really does look that good in real life and it tastes EVEN BETTER!
Firecracker Shrimp with Yakisoba Noodles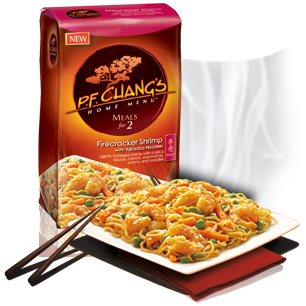 Now, I have to say that I am not a seafood person. HOWEVER, P.F. Chang's Firecracker Shrimp with Yakisoba Noodles changed my opinion of shrimp forever. In my opinion, if you create a dish that converts a non-shrimp lover, then you got something going on! This was another dish that my husband and I shared together. Because my kids are so little, I was a little nervous to let them try the spiciness of this meal. I was glad I didn't share anyways because it was AWESOME. I am a spicy food kinda person and I just loved this dish!
My overall opinion? I am in love with this company. The fact that they bring delicious meals right to your table top is simply fabulous. We are a busy family and we need something quick and easy. I would not lie to you when  I say that this is a quick and easy meal. Not to mention my whole family loves it and that's hard to do! Thank you P.F. Chang's for creating amazing meals for families like mine!
P.S.–We enjoyed the extra red lanterns the company threw in for us. We felt like we were celebrating the Chinese New Year right along with the rest of the world.
You can find P.F. Chang's on Facebook.
You can also check out more scrumptious products by P.F. Chang's on their website.
Have you tried one of these products before? Would love to hear if you loved it as much as me! 
P.F. Chang's Bistro and P.F. Chang's Home Menu provided me with a gift card and free product for this review and all opinions are your own.