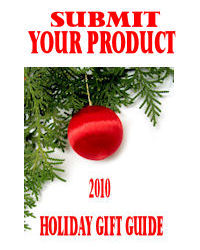 With the 2010 Holiday Season only a few months away, Cocktails With Mom is taking submissions for our 2010 Holiday Gift Guide. This year we will be putting together yet another successful Guide and will be featuring some of the hottest electronics to the coolest toys and MORE! There will be gifts for everyone in the entire family. We are also doing things a bit different this year where our Gift Guide will be cross promoted on other blogs which means even more exposure.
Do you have a product you'd like featured in the Cocktails With Mom 2010 Holiday Gift Guide?
If so, please fill out the contact form below or contact me directly at dee (at) cocktailswithmom (dot) com. You may also offer a reader giveaway that will be scheduled between November 1st and December 15th, 2010. A non-returnable product is required to be featured in the Gift Guide.
We look forward to reviewing you submissions.
Please note: (Submission does not guarantee inclusion.  All entries are considered; however, gifts featured will selected to best suit our readers. You will be contacted within one week of submission).
Cheers,
Dee
Powered by

EMF
PHP Form